This packed football schedule means that although the Euros are just a couple of weeks away, the major leagues around Europe, the Bundesliga included, have only just come a close. Whilst we sometimes see a break of any newsworthy action on a club level prior to a major tournament, chaos is occurring left, right and centre as we speak. There have been some big moves on the pitch but that is no comparison to the managerial merry-go-round taking place, starting first in the Bundesliga…
There has often been a theme of the best players in the Bundesliga inevitably finding themselves at Bayern Munich eventually, the dominant force in the division hoovering up all the available talent at the expense of their rivals. This is the case again with French centre half Dayot Upamecano who has left Leipzig and will begin the new season in the Bavarian camp. To make matters worse not only has his defensive partner in crime Ibrahim Konate been snapped up by Liverpool, the Red Bull owned club have lost highly rated manager Julian Nagelsmann to the Bundesliga champions just two years after he joined them from Hoffenheim. Hansi Flick really seemed to get the best out of Bayern but will now move on to pastures new in the form of the German national team. Bayern Munich's authoritarian grip over the Bundesliga has been tamely challenged recently but to no avail, these sorts of transactions making it all the more difficult for the chasing pack.
With Nagelsmann taking that next step up to Bayern, Leipzig of course need to acquire a suitable replacement. A few names from further down the Bundesliga food chain were spoken of but in the traditional Leipzig mould, they had a man waiting in the wings over in Austria. RB Salzburg competed in the Champions League season as well as winning their domestic league in an attractive manner and their American manager was heralded as instrumental in this success. Jesse Marsch is the man in question who in his playing days ran out for DC United, Chicago Fire and Chivas in his playing days, but it was his managerial stint with the New York Red Bulls that set him on this path. The natural progression has seen the Red Bulls become Salzburg and now to Leipzig, he will have to do without two extremely gifted defenders but Marsch still has the belief behind him that he can do well in the Bundesliga.
Next, to Borussia Dortmund where a very topsy-turvy season had them on the brink of the Europa League, they gathered a late bit of form though and that with an equivalent lack of form from Frankfurt saw them finish third. Lucien Favre lost his job at the Signal Iduna Park before Christmas and, on an interim basis, was replaced by Edin Terzic from within the club. He had some real low moments whilst in charge but equally there was some real highs, whether it be the league victory over Leipzig that was huge for their top four ambitions or lifting the DFB Pokal thanks to an attacking masterclass from Sancho, Reus and co, overcoming the same opposition in the final. Terzic's successor has been known for quite a while now, Borussia Monchengladbach's Marco Rose set to take on the role and thus continuing this domino effect being seen across the Bundesliga.
The next stage of the aforementioned chain has seen Rose move on from Gladbach, his replacement being Adi Hutter. Rose is a highly regarded manager in the division but it was a disappointing Bundesliga campaign for his side this time out, an eighth placed finish meaning they missed out on European football altogether, even with the introduction of this UEFA Conference League. They took some batterings against the sides who they were very inferior too, a 6-0 loss at the hands of Bayern in the latter stages proving crucial in Lewandowski's hunt for the record breaking 41 goals. The Austrian in question Adi Hutter did some great work with Eintracht Frankfurt, his side looking destined for a top four finish this season until a disappointing last few games allowed Dortmund to leapfrog Die Adler. Hutter has an exciting squad at his disposal with the likes of Marcus Thuram and Florian Neuhaus still a long way away from reaching their projected ceiling.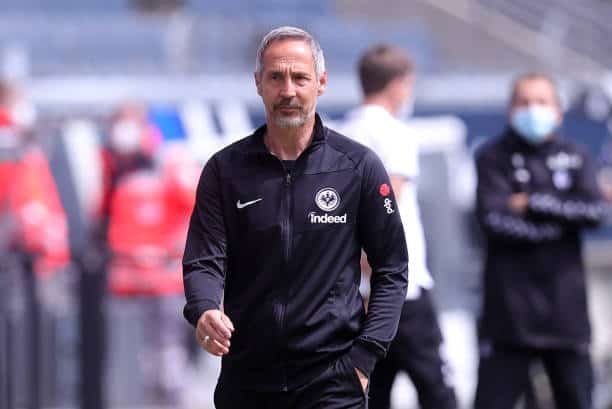 Adi Hutter's departure from Frankfurt obviously means that they themselves are after a replacement now and a fellow countryman of the man moving on is in position to take on the mantle. Oliver Glasner was at the helm of Wolfsburg for two Bundesliga seasons and one man's loss is another man's gain, Frankfurt's fifth-placed finish allowing Wolfsburg to join Dortmund in the remaining UCL berths. Glasner leaving a successful side raised a few eyebrows given how they (arguably) overperformed but a relationship with the Sporting Director labelled 'strained' may well have played a key role in his move to Frankfurt. Andre Silva's goals were the obvious positive from Hutter's men this year but a failure to have multiple prolific scorers will maybe be something that Glasner addresses in his new role, will Luka Jovic be returning to the club?
Everything has taken place so quickly given that the season has only just drawn to a close so the fact that Wolfsburg are still in the process (at the time of writing) of appointing Glasner's replacement. Whilst we await an official announcement, all the reports point towards a Dutch legend of the game being brought in, Mark Van Bommel. Having played for the likes of PSV, Barcelona and Bayern Munich in his career, Van Bommel's exploits on the pitch can't be questioned whereas he is yet to accrue an overwhelming amount of managerial experience. His only head coach role was a brief stint at the helm of his beloved PSV so it remains to be seen what he could bring to this role, he'll be right in at the deep end in the form of the Champions League and of course the Bundesliga too!
From one Dutchman to another in the form of Peter Bosz, who boasted an exciting brand of football with Bayer Leverkusen that, in the last couple of years, saw them challenge consistently for one of those coveted top four spots. This time around though, like Gladbach, they were a step off their best and were quite disappointing in reality, finishing sixth with nine points separating them and fourth placed Wolfsburg. Bosz's future lies outside of Germany as he has replaced the outgoing Rudi Garcia at Ligue 1 club Lyon. Meanwhile, Bosz has been replaced by the highly rated Gerardo Seoane at Leverkusen, a man who brought Swiss club Young Boys to the attention of many via Europe's major competitions. Seoane won consecutive titles in the Swiss Super League and will now challenge himself on another level as he takes on a very talented squad that is blessed with a strong blend of youth and experience.
Elsewhere, Hertha Berlin have announced they'll bring their managerial conveyor belt to a halt for now as Pal Dardai will remain in charge. Also, it's not too surprising to hear that Mainz will continue under Bo Svensson and Urs Fischer's role as manager of Union Berlin is safe following the pair's successful seasons in charge. With seven of the top eight Bundesliga clubs set to begin the 2021/22 season with a new man at the helm, who knows what will happen. Not to mention that Italy is experiencing something similar, Pochettino could be departing PSG already, so stay with us here for all the talk as it happens…